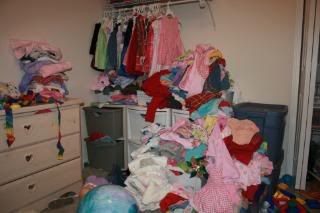 This is the little's clothes closet area. Yes, I know. It's embarrassing. Those three two-drawer rubbermaid bins usually hold all the day clothes for each of the three littles. The top drawer is summer and the bottom drawer is winter. The small white bins on top of each "dresser" holds their socks and underwear and the dresser to the left holds their pajamas. One drawer for each little. Evie on top, Isaac in the middle and Sophia gets the bottom drawer. The hanging rod is for Sophia's dresses and Evie and Isaac's dress clothes go in their bedroom closet. This has made it much easier for us to put the clothes away and to get the littles dressed in the mornings.
So, WHAT HAPPENED? Simply put, we had two growth spurts and a season change. Now it is my pleasure(gasp!!) to sort through this mess and decide what to keep, what to store, and what to give. So here's my question. How many outfits would you keep for winter and summer (since we can't put either season away) and what sizes for each kid? For example, Sophia is just barely fitting into/outgrowing size 24 months/2T and is growing into size 3T. The problem is, she really doesn't fit into the size 3T pants, (They are too long.) but the size 2T shirts are snug. I really don't know what to keep and what to give away. I also don't know how many of each size and season to keep.
Any advice? I'm working on culling this mess this week and I'll be giving away the excess and storing whatever I can keep for Sophia from Evie's piles. I'm also storing Isaac's clothing for his cousin William.
So, if you all don't hear from me, you know where I am. Send help!
Blessings,