I finished another project today. I did most of it last night after the littles went to bed, but saved the waist for today when I could measure Evie.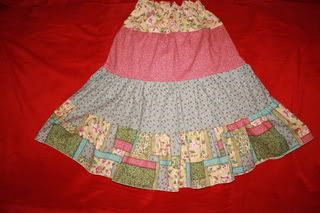 My biggest mistake was not consulting Evie about color selection before making it. Oh well, at least I have Sophia. Maybe SHE'LL wear it once she's a bit taller.
I think it's pretty.
If you all are interested in making your own twirly skirt, I found a tutorial for making them at...
http://indietutes.blogspot.com/2008/11/tiered-skirt-aka-twirl-skirt.html
I'm going to work on shirts now. I'll definitely let Evie pick the fabric.lol
Blessings,