This school year ROCKS! (I just had to get that out. I feel better now.lol)
Allison is ON FIRE. O.k., not really on fire but she's found her happy place and is working fervently to get to her desired goals. She has decided to tackle Chemistry AND Advanced Biology this year, along with Geometry AND Algebra 2. I think it's great that she knows what she'd like to be doing and is working towards it without me needing to do anything except get the books into her hands. Her AB book will be here next week and Apologia has the first module online so she's already begun. She also helped pay for the book, since it wasn't a planned purchase for this year. Luckily, her brother is taking the other three subjects this year and we already have them. Fun, fun, fun!
Jon is AMAZING! He's been getting up at 6:00am without complaint this year, even though he is not a morning person, just so he can get his work done early. He's been mowing lawns all summer and since this is Florida, his job hasn't finished for the year yet. He has three customers and likes to get the jobs done in the mornings, so he needs to get his work done extra early. His school work is going great this year too. We're working on essay writing, literature, Japanese, culinary arts, geometry, algebra 2, chemistry, and world history this year.
The older kids went to Universal Studios, Islands of Adventure, Disney World, MGM, and Epcot on Sunday and Monday of this week with their Grandma G. They had such a great time! What a once in a lifetime adventure for them. While at Epcot, Jon bought a little Japanese cat and spoke to the cashier in Japanese. My MIL and Allison were very impressed! He's really coming along in learning his favorite language.
Right before they left on their trip, Jon attempted to make Baklava from scratch. It was good but his philo dough was a little too thick. We ate it anyway.LOL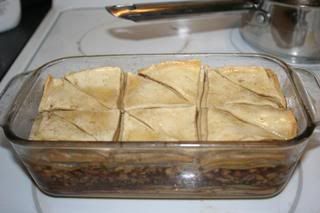 Genevieve seems to be growing each and every day. It's scary to see her getting so old. I can remember when I could only hope I'd make it this far.LOL She's really turned into a GREAT big sister. She goes to the YMCA for homeschool P.E. every Tuesday and Thursday and this past Thursday, the teacher took me aside to tell me that Evie was a super great kid! There was a new girl in her class that day, and Evie took it upon herself to take care of her and help her fit in with the group. Now, keep in mind that Evie is one of the youngest in the class!LOL Now that's my girl. I'm so proud of her!
She's also lost another tooth!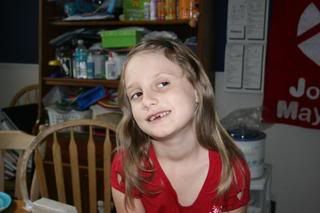 What a sweet smile Evie has...
Now, Isaac has really grown this year also. Last year, he was our "wild card" in our school day. This year, he's been willing to sit in on some school work a couple of days each week. What a big difference! He's also been very creative lately...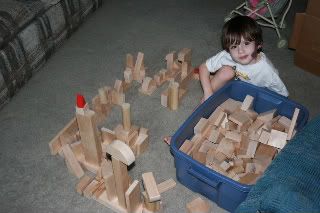 We find these kind of towers all over the house.LOL
Yesterday, he got in trouble. He cut up a piece of Jon's boyscout uniform. I don't think he realized that it was something he couldn't cut up but even so he had to work off the cost of that piece. Luckily it only cost a $1.00 so I charged him with washing the table before dinner last night...
He did a super job! I think that I've been underestimating him again.
Well, that's been our week. Our schedule is working great for us and I'm even getting a little time each week to sew. I made Isaac a pair of boxer shorts today and they turned out nice. I'll post a photo if I get a chance later today. He's wearing them right now and I hate uploading photos. ::snort::
Blessings,