I made these dresses this weekend for my girls. Sophia's dress, I copied from a dress that she wears all the time. Sophia hasn't been letting me photograph her lately. Every time she hears my camera click, she comes running over to see the baby in the camera.lol
Genevieve's dress, I used a pattern. Of course, I just had to make things more complicated by adding the pockets and embellishments, but Genevieve was so pleased that she insisted on wearing it all day today.
She also wanted Sophia to wear hers...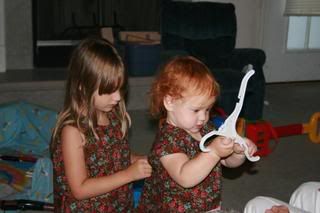 Very sweet...
Blessings,