These photos have nothing to do with my post.LOL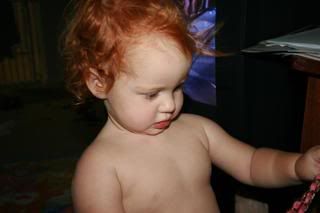 She's just plain cute... and determined...
I have a confession.
For the whole summer, I've had NO menus, plans, or anyway to determine WHAT in the world we'd eat each day.
Whew. I feel sooooo much better now. ::snort::
Now why in the world would someone like me, who thrives on lists, menus, and having a plan, just up and quit making one? Well, it's complicated.lol
I've been dealing with a bad stomach for 16 years. Not one dr. could figure out what was wrong. It usually came down to them telling me that it was all in my head and that nothing was wrong. Don't you just love the medical professional field? Hey, I can't figure out what's wrong with you so there must not be anything wrong.lol Long story short, I have a wonderful Dr. who has helped me tremendously! It has meant giving up a lot of my favorite foods though and I think I needed the summer to figure out HOW to eat again and feed my family too. I'm feeling sooo much better. Not all better, but so much better that I feel like a different person. What a blessing from God!
So what does this have to do with Menus you might ask? Well, I was visiting my friend, Mylinda's blog (
http://www.thebuggycrew.blogspot.com/
) the other day and she was putting up a 10 week menu plan and it spurred me on to make my own plan for our first 5 weeks of school. I made mine for breakfast, lunch, snack, dinner, and after dinner dessert/snack. I also made a grocery list for each week so I can just go through it and cross off anything that we still have from the week before, then look at (
www.thecouponmom.com
) for any corresponding coupons and get to the store without having to spend all week figuring out the menu, then the grocery list, THEN looking for coupons and sale ads. I finished the last grocery list today and also did my first shopping trip with my week one list. It was such a blessing! The lady at the grocery store I went to today said that she is amazed at how fast I can shop with five kids. lol Good stuff!
Here's my list. If you'd like a recipe, I'll try to post it later. No promises since school starts for us on Monday. lol
Week One
(It goes, breakfast, lunch, snack, dinner, dessert)
Sunday: smoothies, pulled pork sandwiches and chips, muffins, roast chicken, rice, broccoli, ice cream sundaes.
Monday: chocolate chip pancakes, potato soup, rolls, cheese and crackers, taco stuff, popsicles/fudgesicles
Tuesday: bagels and cream cheese, quesadillas and carrot sticks, apples and peanut butter, pizza and salad, chex mix
Wednesday: granola bars, black beans and rice, pudding, beef stroganoff and greenbeans, popsicles/fudgesicles
Thursday: cereal, garlic-butter pasta and salad, trail mix, fried porkchops, noodles, and peas, chips and dip
Friday: muffins, chicken nuggets and french fries, fruit salad, spring rolls and chicken lo mein, brownies
Saturday: eggs and biscuits, leftovers, chex mix, chicken soup, popcorn
Week Two
Sun: Smoothies, ham and turkey sandwiches and chips, apples and p-nut butter, baked ham, potatoes, and steamed veggies, ice cream
Mon: pancakes, broccoli-cheese soup and rolls, cream cheese and crackers, taco pie, popsicles/fudgesicles
Tues: english muffins/eggs, beans and cheese and chips, celery and p-nut butter and raisins, chicken spagetti and salad, chex mix
Wed: granola and yogurt, mac and cheese and fruit, jello and cool whip, potato bar, popsicles/fudgesicles
Thurs: cereal, pizza and salad, popcorn, beef stew and biscuits, chips and dip
Fri: muffins, fish sticks and french fries, monkey chow, egg drop soup and fried rice, brownies
Sat: eggs and cheese, leftovers, chocolate-chip cookies, 15 bean soup and french bread, corn chips and cheese or salsa
Week three
Sun: smoothies, leftovers, donuts, beef noodle soup and rolls, ice cream
Mon: pancakes, chicken sandwiches and chips, graham crackers and p-nut butter, roast, potatoes, carrots, and onions, popsicles
Tues: breakfast pizza, minestra soup and french bread, popcorn, chicken enchiladas, chex mix
Wed: oatmeal, chili/chips, potato chips and dip, skillet lasanga and salad, popsicles
Thurs: cereal, ramen and fruit, p-nut butter cookies, steak and greenbean soup and bread, chips and dip
Fri: muffins, spaghetti and salad, granola, hash and greenbeans, brownies
Sat: eggs and toast, tuna salad sandwiches, tic-tac-toe mix, beef and broccoli and egg rolls, chex mix
Week four
Sun: smoothies, mealball subs and chips, apples and p-nut butter, fried chicken and noodles and green beans, ice cream
Mon: pancakes, chicken soup and rolls, graham crackers and cream cheese icing, nachos, popsicles
Tues: breakfast tortillas, nachos, chips and salsa, spaghetti pie and salad, chex mix
Wed: oatmeal cookies, fried rice, chocolate chip granola, sloppy joes and veggie tray, popsicles
Thurs: cereal, pasta salad and break sticks, rice crispie treats, pepper steak and rice, chips and dip
Fri: muffins, fried shrimp and french fried, popcorn, sesame chicken, rice, and salad, brownies
Sat: eggs and bacon, leftovers, oatmeal cookies, split pea soup and french bread, monkey chow
Week Five
Sun: smoothies, roast beef sandwiches and chips, potato chips and dip, meatloaf, mashed potatoes and peas, ice cream
Mon: pancakes, grilled cheese and carrots, popcorn, burritos, popsicles
Tues: bagels and cream cheese, lentils and rice and tortiila chips, rice crispie treats, baked ziti and greenbeans, chex mix
Wed: granola bars, black beans and rice and salad, monkey chow, tuna noodle casserole and cressants, popsicles
Thurs: cereal, chicken packets and french fries, sugar cookies, stuffed cabbage, chips and dip
Fri: muffins, egg salad sandwiches and veggie tray, chex mix, stir fry and rice, brownies
Sat: biscuits and gravy, leftovers, donuts, bacon-lentil soup and rolls, potato chips and dip
Whew! So there. I'm done and I feel great knowing that I won't have to mess with menus, lists, or plans for five weeks. If everything works out, I'll be repeating this list for another five weeks.lol
Blessings,