This past weekend I was surprised by a phone call from my good friend Mylinda from Miami. She and her girls were going to be in my town and they wanted to see us! What a wonderful surprise! We all had such a great time. It makes me miss our old home so much!
Here we are, Sophia, Mylinda, and I at the end of our visit. Doesn't Mylinda and Sophia look related? We thought that was pretty neat!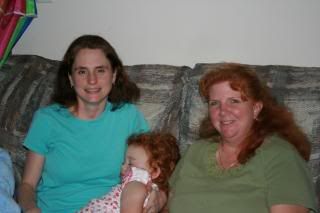 Here are the older kids together...they were such good friends down in Miami and they sure had a good time hanging out together again. We sure miss them!
Ashton, Jon, Allison, and Savannah...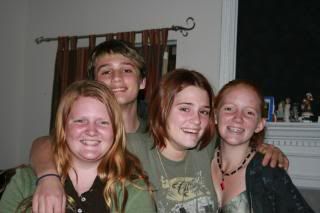 Mylinda and I have so much in common. We both had older kids close in age and then we both were blessed with little ones after having such a large break. Evie and Isaac grew up with her little boys Indy and Levi. What a blessing that we can still keep in contact with each other! I'm hoping to visit sometime this spring/summer and we'll get those little ones back together again. Thank you for such a wonderful surprise Mylinda!
Blessings,