We celebrated Isaac's birthday on Saturday with a nice party. I think this is his first party with friends and he was so excited. I always let the birthday child to decide on the food and dessert for the party and Isaac chose pizza and decorate your own cupcakes. I made some fabulous homemade icing and then colored it different colors and set it out on the table for the kids to choose from. They all had fun!
Let the decorating begin!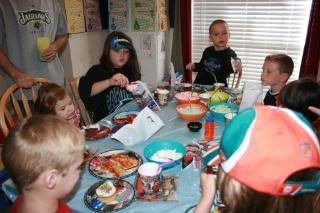 Here's Evie's...
Isaac ate his too fast for a photo...lol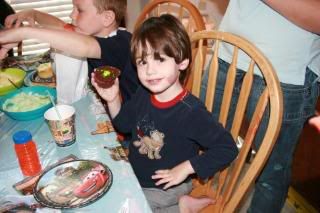 Here's Evie's again...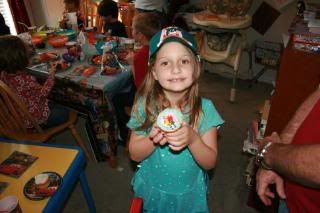 Here's Isaac blowing out the candles...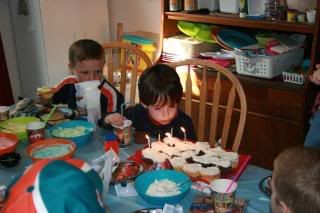 He had such a great time...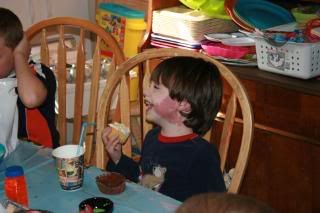 So did Sophia...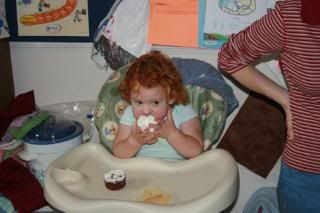 While picking out party favors for the guests, I realized that if we were to pick out one NICE gift instead of a bunch of those plastic party favors for each guest, it'd cost about the same if not less and it wouldn't be a piece of junk. So before Isaac opened his gifts, I had him hand out the wrapped gifts to his friends. They were so surprised! Isaac had such joy giving the gifts to each of his friends and they really seemed to like what we picked out. We bought small Transformers for the boys and Littlest Petshop for the girls and one baby board book.
Isaac was so happy with the wonderful and thoughtful gifts that his friends and family chose for him. He received Legos, Matchbox car tracks, A shake and Go Nascar Racer, A remote control racecar, a Cranium Mega Fort and Carnival, and some really nice clothes.
Then we did the traditional pull-string Pinata. His was a dinosaur, even though the party theme was Cars. I used treatbags for the candy and also gave out some Car-themed tatoos and some bubbles. Everyone was well sugared.lol
Right after his party ended, Isaac was playing out front with one of his friends and managed to break his elbow. So the day ended with a trip to the Children's hospital. A true "Guy Day" if there ever was one.LOL
Happy Birthday my little big boy! We love you and can't believe you are 4 years old on the 15th! Why must you grow so fast? Take your time little one. We're in no hurry.
Blessings,