And what a week it's been!
Sunday, we had a BBQ. It was so much fun! We had Eric's sister, dh, and son, William over and we spent time with some friends we hadn't seen in a long time and their little guy Greyson. All those little ones were so cute together!
Here's Sophia and William on Allison's lap. Sophia was sharing...lol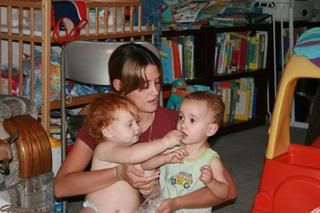 Here's Sophia in her cute "new to us" outfit...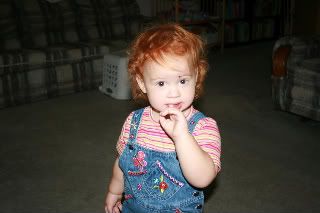 Here's Sophia and Greyson sharing our little red car...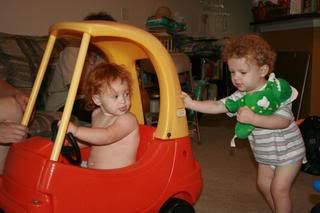 They were so cute together!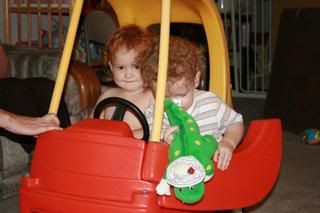 I think they made instant friends!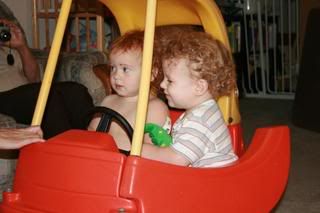 After this party, what could possibly go wrong with our first week back to school you might ask? Well, Monday, Allison needed her knee looked at again. It's been bothering her and is swelling and bruised looking. The Dr readjusted it and says if it's not better by next week, he'll need another MRI. We may be looking at possibly draining the fluid. Not good! For now, she's on Ibuprofen and has an ace bandage on it.
Tuesday began our outside activities and it was sooo much fun! I really missed the YMCA group and it was so nice to see everyone again. The only damper was the tropical storm approaching us. ::snort::
Wednesday was a good day. We spent it indoors doing our school work and pretending that a tropical storm wasn't on it's way to our house. La-la-la-la-la. Of course, when my dh showed up at 2pm, it was a little hard to pretend, but I'm pretty good at it. LOL
Jon decided to treat everyone to Gourmet Chocolate Truffles that he made from SCRATCH at 10pm this night! They were very good. At least that's what everyone told me. Those meanies!LOL
Jon and his fabulous truffles...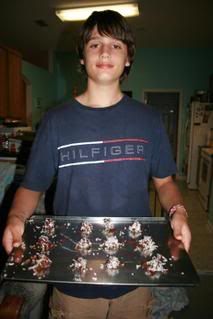 A close-up of those little balls of happiness..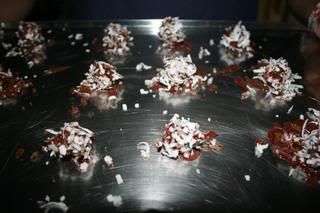 Alas, there was not one ingredient in those delectable little morsels, that I am allowed on my diet, so I just watched everyone moan in delight.LOL
Today, Isaac had another surgery. He did good. He amazes me and makes me proud. I pray that this one makes a difference and that it will bring him closer to being finished with these.
Right now, everyone is asleep and I am listening to the pounding rain from our Tropical Storm, Fay. There. I said it. lol We didn't do too much to prepare for this, so I'm praying that nothing important blows away and that God will keep us safe during this storm.
As for our school work, everything has gone quite well. I'm so thankful. Both older kids have been getting up at 6am each morning so that they can complete most of their work before the littles are too awake to prevent them from getting it done. It's working quite well, although the plan was for me to be up too and I only made it one day out of four so far. If Sophia would allow me to sleep during the night, I'm sure that I'd be up without trouble but she's only been letting me nap in the evenings, thus, I'm zonking out whenever my dear, dear husband tries to wake me up.lol Tomorrow is another day, though and I'm ever the optimist!
I've been working with Evie each morning and she's really excelling this year! She's gone from not being able to read, to reading little beginner books this week. You know, when they're ready, they're ready. It always amazes me.LOL
Isaac and Sophia have been getting their own activity time too. Since the older kids are done with their work early, we've been dividing the littles up and working with them separately. That has been a good idea too. We would like to stick with the same kids for the next 9 weeks but so far, we've been shuffling them around to see who does best with whom. I'm thinking by next week, we'll know who belongs where.LOL We are getting so much done this way! We've done science, art, cooking and Jon even built another cardboard city with Isaac this week. I love seeing us all work together and build relationships with each other. What a blessing!
Well, this is getting loooonng and I'm tired.lol This year has given me such hope. I feel like we're doing what God really wants us to do and I'm happy. What a blessing.
Blessings,