I know you all have been on the edge of your seat just wondering what I've been up to...
Right?
RIGHT?
Ahem.
Well, anyway, I've been mighty busy.LOL
I finally finished that cute little dress that I was working on, you know, the one made from Jon's old Hawaiian shirt. Here's the reluctant model...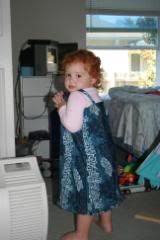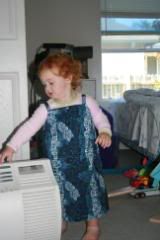 I still might shorten it a bit but I'm happy with it for now. I took a million photos but she was grumpy. Oh well.
Next, I made Allison an Uber-cool backpack for her work stuff. She was looking for something that said, "lifeguard stuff-back off." Also, "lifeguard stuff-is stinky and it better be washable." Basically, she wanted a beachtowel made into a backpack and I wanted it to cost me nothing.LOL We both got what we wanted with this...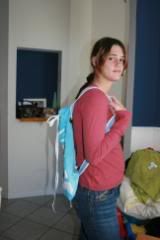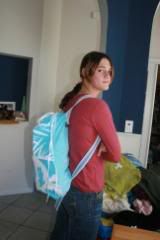 I also made a cute little clothes pin holder for my mom but forgot to take a photo of it before I gave it to her. It was an old button down shirt of Isaac's sewn on the bottom. Very cute.
Well, that's it for now. I'm sewing and creating each week or two whenever the time is right and the mood hits me.LOL Who knows what I'll come up with next....
Blessings,