larger than the average family.lol
A few months ago, we purchased one of those umbrella clothes lines to hang our laundry on. It SAID on the box that it could hold 3-4 loads of laundry for the "average family." Well, the "average load" must be extremely small and very light weight, because, for one thing, it only ever held 1-2 loads of our laundry and for the second thing, it BROKE! The sheer weight of our laundry snapped the pole in half. We fixed it once but it has broken again and I'll be replacing it with something much stronger this weekend, if not sooner. Bummer.
Here's my improvised clothes line until further notice...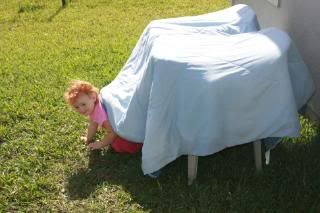 Sophia seems to like it.lol
And, Yes, I'm still working on the messy clothes room. I'm at the point where I must try the remaining clothes on Sophia and she's only a little tolerant of the process.lol
Blessings,