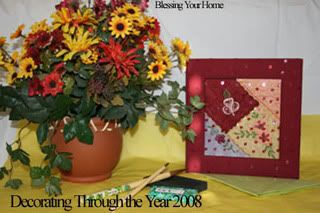 Well, the time has come. I have decided to host a challenge for this New Year! I'm calling it Decorating Through the Year, because that's just what I hope to do. My mission, which I've already decided to accept, is to pick one room each month and DO SOMETHING to make that room ours. I'm also going to be going through that one room and cleaning it, decluttering it, and otherwise fixing it up. I've lived here for almost two years now and haven't really done anything to make this my home. So far, we just live here.LOL That is no longer acceptable to me.
If you are interested in joining me, here's the rules:
1.Write me on this post to let me know! I'd love to keep up with everyone's progress.
2. Post this icon on your blog and on any post that pertains to the challenge.
3. Pick a room and get started! It's already January and you're behind.LOL (Just kidding)
4. If you have a camera, post a before and after. I'd love to glean ideas from you all. Maybe if we all pick different rooms, we can borrow each other's ideas.LOL
5. Try not to spend more than $30-40 dollars. Be creative! Remember that you're going to be going through your whole house and this is not the time to get expensive. I don't want to be responsible for your credit card debt.LOL
6. Pray over each room. Blessing your home will go a long ways to making it yours.
7. HAVE FUN! If you aren't having fun, skip a month. Don't let it become a burden.
So, that's it! I'm excited and already have a few ideas floating around. I can't wait to begin!
Blessings,
Here's a smaller icon for those who need it...