Sophia is amazed at the changes occuring in our home...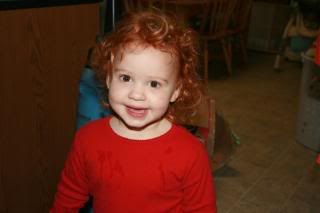 Today, we completely removed everything from our library. Boy what a job! It took Allison and I 3 hours to get it all out. My Mom took the little ones to Chuck E Cheese and that was a huge help.
After we got the room cleaned out, we removed the carpet and the tile from the hallway. Oh, we're homeschooling now! Jon had fun getting that tile up. The builders who laid the tile DIDN'T use morter under the tiles. That made removal easy but boy am I glad we decided to take it out! It sure wouldn't have held up for long.
Allison got the high spots for me. This is the new color...Bagel! We love it. I bought an automatic paint roller and it is amazing! We were able to paint the room in under an hour. Very nice!
Right now, we're painting the hallway with primer and tomorrow morning we'll finish the hallway so that we can begin the tiling job. I'm so excited to be making such good progress so fast!
Blessings,