So, I had this color in my head. I REALLY wanted it, but all I had was a tiny photo. I looked and looked for the color and thought I'd found it. Yesterday, I was on a mission to finish the dining room. I whipped out my handy-dandy painting tools, opened the paint can and began to paint.
*Note to self: ALWAYS do a test swatch before getting this far and finally noticing that the paint is horrible...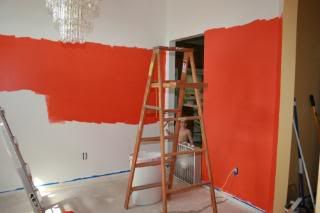 Yes, folks. I got ALL the way around the room before I realized how yucky the color was turning out.lol
It was a looooong day. I sent Allison for a lighter orange. She brought back the color I'd envision in hell's dining room. It was the color of flames and with the dark tile, it'd be just dandy. ::snort:: Sorry, no photo of that one. By then, I was really rethinking the whole "Poppy" color. I was tired and I no longer really wanted to mess with it.LOL Allison thought we should try one more time. I decided that we'd just get 3 little paint samples and try them on the walls. That worked much better and we found the color I was looking for.
Today, we painted the whole room this color...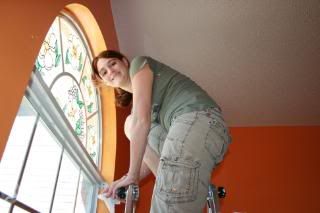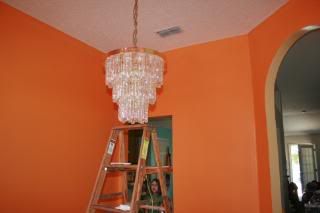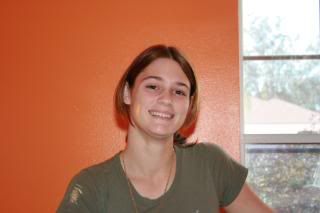 We love it! I can't wait to see it with the tile and I'm going to stop by Pier One tomorrow to see if I can find a good painting on the wall. I'm glad that Allison kept me going when I would have given up.
Oh, and it looks great with Sophia...lol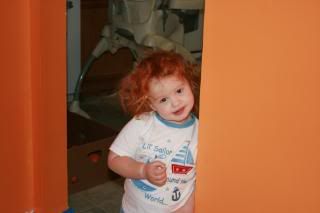 And Evie too...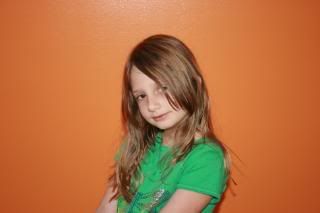 Look at that hair...lol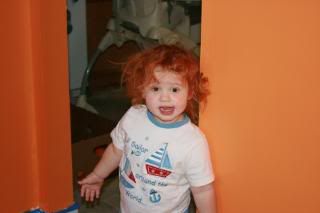 See? I do work too.lol...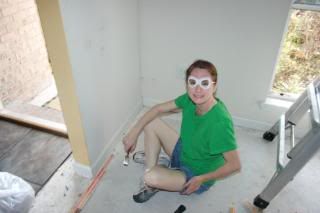 Blessings,