Yesterday was an awesome day! My mom and I took the littles to a place called A Day of Play. I had a coupon that got us a whole day there for $12 total and we could come and go as we pleased for the whole day. Pretty neat! Everyone had a great time and here are some photos...
They had a stage with a million puppets to choose from...
They also had costumes that Evie tried on...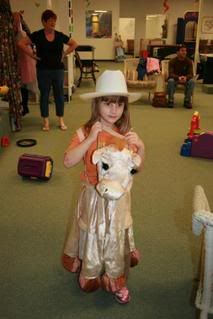 Isaac spent most of his time at the two train tables...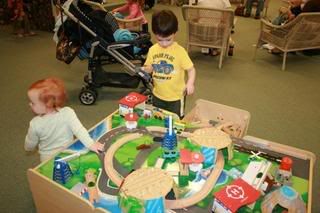 And at the GIGANTIC race track...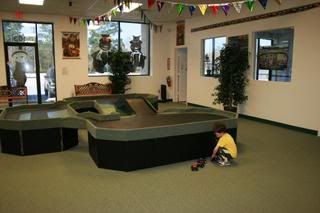 I will not share...
Evie loved the indoor playground...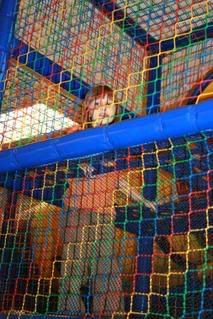 It was HUGE...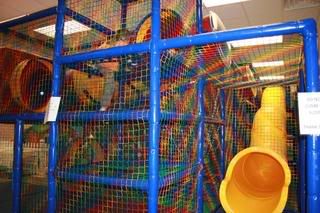 Even Sophia had a great time...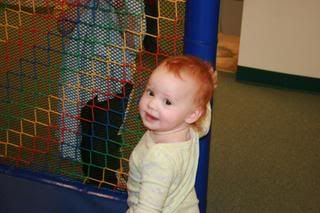 They also had a play store with groceries, carts, and a cash register/check out lane. Two salt water fish tanks, a baby area with changing station, a huge movie screen room with bean bag chairs, an arts and craft area, a story area, foose ball tables, air hockey tables, a "vet clinic" and many other things to choose from. We ended up stay for about an hour and a half, then we ducked out for lunch and came back for another hour and a half. By then Sophia was in need of a major nap and so was I.LOL My mom took the older ones to Walmart and back to her house for a while and I took Sophia home to rest. Both Allison and the littles got home at the same time and we ate dinner, took a walk, gave baths, read stories and put them to bed. They all slept soundly.LOL
This morning, my mom asked if she could take Isaac and Evie to her church and I was happy to let them go. I dropped them off early so that I could take Allison to our church in time for Bible study. I decided to stay and sit in with the adult study and Sophia was very good. It was really nice to actually study with other people.lol After that, we stayed for the service and Sophia was pretty good. She was a bit distracting for others, being that she was making goo-goo eyes at people and making them smile but I only had to leave the service twice. Not too bad.lol After the service, we took her home and she was asleep before we even got there. Mom invited us over for dinner and we headed over there once Sophia woke up. It was really nice not to cook and of course mom's cooking was great! After dinner, Sophia was done. You know, the kind of done that says, we did way too much in too little of a time span? Well, we had to make a quick exit and head home. Everyone was very tired but we did our routine of walk, bath, stories, and bed. I never saw a peep out of them after I shut their door.LOL
I'm so thankful for such great kids! I'm glad that we got this time together and that everyone was so good. I'm also thankful for all the help I received from my mom, dad, and Allison. It was a good weekend!
Blessings,