And we had big plans.LOL Well, as it is always with little ones, things didn't go quite as planned but we still had a nice time. Just a day or two before Christmas, I decided that I really didn't want to cook Christmas dinner. What I really wanted was the day off. I called my mom up and she said she'd love to do the cooking, so I offered to cook Christmas Eve dinner. Same menu, just a day earlier.lol
Dinner was wonderful! The roast was perfect and all my sides came out beautifully. I couldn't have asked for a better turn out. Everyone left full and happy.
After dinner we attempted to take everyone to the 7:30 candlelight service. That too didn't quite go as planned.LOL Here are some photos of before church...
Isaac ready to go...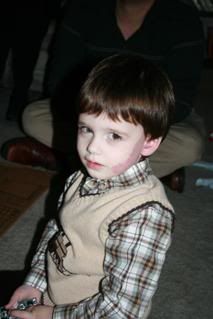 Sophia looking absolutely beautiful in her new dress...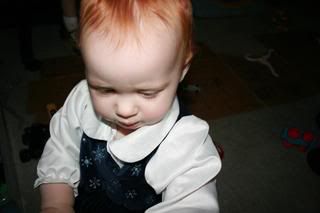 Cheese! With a non-compliant Evie in the background...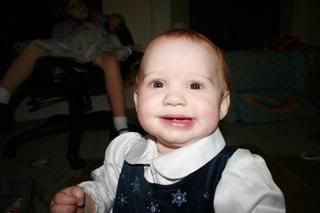 Right after these photos, Sophia had a meltdown. She never made it to the service.LOL So we changed some plans and Allison offered to stay home since she was performing in the 10:30 service and my MIL stayed too since she had planned to take Allison. The rest of us went to the service a little late and ended up in folding chairs in the back where Isaac proceeded to have a meltdown.lol He fell asleep as soon as the service began. The service was really nice and I was happy to see our little church full of people. I am so glad we went and I'm even more glad that Sophia didn't.lol
Once we got home, Allison let me listen to her practice for her solo. She played Silent Night on guitar and sang it in GERMAN! Wow! She's got a lovely voice and her playing is just beautiful. I was unable to go to the late service since Sophia was having teething issues, but my MIL said she did great.
We had offered for Peggy, my MIL, to stay the night and she was a real blessing! She did all my dishes while we were at the 7:30 service and she took Allison to the late service for us. I told her she could do my dishes anytime.LOL Also, whenever it's our turn to have her on Christmas, she'll be staying over. It was so nice to have her here with us.
Well, that was Christmas Eve. I'll do a separate post for Christmas...
Blessings,