Christmas day started at 7:00am sharp.LOL The kids were so excited! Isaac opened the first gift of the day by pulling the table cloth covering this Shiny Red Fire Engine...
Is this MINE?!!!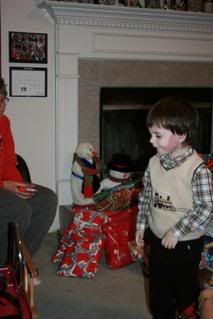 Are you sure Grandma?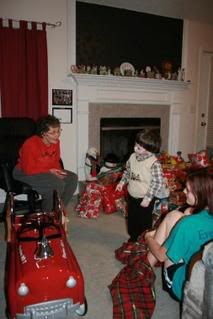 One happy guy...
Evie was quite happy with her things. We did a joint gift for her and Jon. They like the same things and so we decided to splurge and get a Wii. They were thrilled and have been playing it daily.
We got Allison socks.LOL O.k. her big gift was a Guitar Pod thingamajiggy and she was very happy but it was so funny, she kept opening package after package of socks. She is such a fanatic about them though, so she was happy.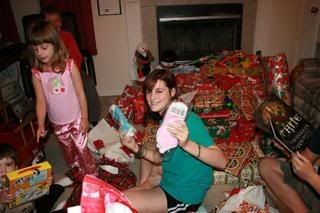 The theme for Jon was Japan. We got him two of a series of Manga Bibles, an origami and kiragami set, a Sumi set with paper, Dekker's series Red, White, and Black, and of course the Wii. He loves all things Japanese.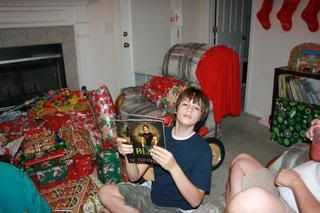 Sophia loved the paper, tape, bits and pieces, and do-dads that littered the floor. We did get her a few things but she loved the paper and stuff the most.LOL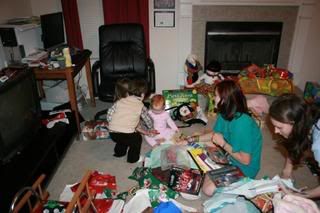 After we finished opening and playing with everything. We had breakfast, got dressed and went to my parents home. We had a great lunch/dinner there and opened even more gifts. Mom served Turkey, ham, mashed potatoes, sweet potatoes, greenbean casserole, corn pudding, cranberry relish, black eyed peas, greens, deviled eggs, and rolls. I brought an ice cream pie and Peggy brought a lemon pie.
My dad got me this GREAT collage frame and I can't wait to get some photos in there. It's just perfect for my Decorating Through the Year theme of this next year. I think I'll start with my living room now that I've got something to dress this room up with.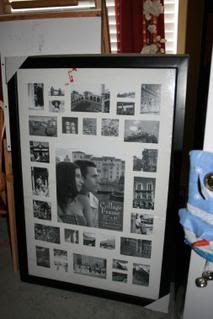 My parents got Jon a really neat remote control plane and both older kids their own DVD player. The littles were spoiled rotten with all the things they got and still haven't played with everything.lol
Here we are at my parent's home...
Mom, Dad, Allison, and Jon...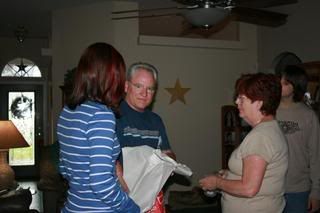 Evie...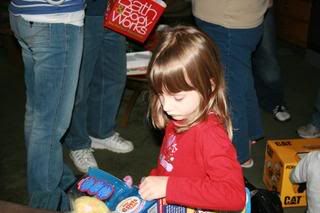 It was a really nice day. After the kids got tired, we went home and read the last day of Jotham's Journey. Everyone really liked this tradition and wants to do something else throughout the year. I'm still trying to find just the right thing.
I made Beef Noodle Soup for dinner using the leftover roast and everyone was ready for bed early. It was such a blessing to have a relaxing day with all our family. It was probably the best Christmas we've had in a long while.
Blessings,