Our day dawned bright and early with the exciting hum of the Nebulizer. Yes, Sophia was wheezing like an 80year old chain smoking asthmatic. We started the treatments and are doing the 5am, 1pm, and 9pm routine for now reserving the right to change and do the 5-11-5-11 plan. After her treatment and subsequent buzz wore off, I accidently (oh, who am I kidding?) fell asleep.lol My Thanksgiving day restarted at the ripe hour of 10am. Yikes! That got me in gear.lol I got dinner started and set the older kids to bringing in the Christmas tree and decorations. The littles were overexcited and my living room can attest to that.lol
I made the executive decision to have the kids begin the annual Gingerbread house assembly. Nothing says gingerbread like the sound of a hair dryer...feel the fun folks...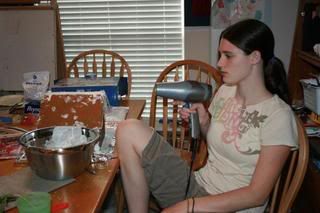 Jon was an expert roof holder togetherer...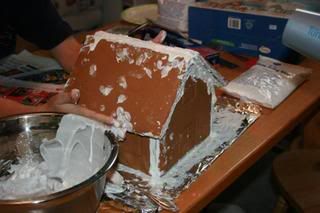 He also made a great model...
Here they are decorating the house while my younger ones look on in a candy induced stupor...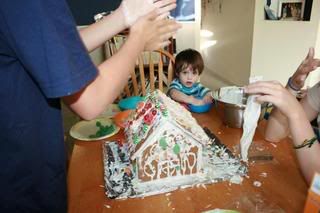 Here's Jon showing the proper way to adhere the candy to the house...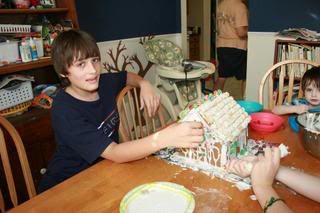 I'm breaking up the excitment into two parts because I don't want to overwhelm you all with our exciting day...