Now it says on Photobucket that I reduced the size of the photos but on here it's showing them fullsized.LOL Oh well, enjoy them anyway.
Here is Evie in her halloween costume. What a ham.LOL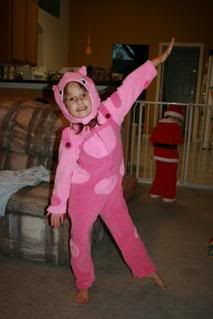 Isaac decided to be Santa Claus. Everyone got a kick out of him. They kept saying he was a little early.LOL We don't even celebrate Santa but he loved the costume.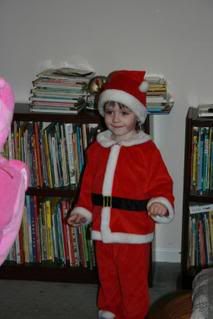 Isaac decided not to wear the hat and Sophia was a good sport and hung on to it for him...
Here is the new door! Yay! You wouldn't believe how many people in the neighborhood came by to ask what in the world happened. Some, just checked my blog.lol We were boring and chose close to what we orginally had. I like it though and it goes well with the house.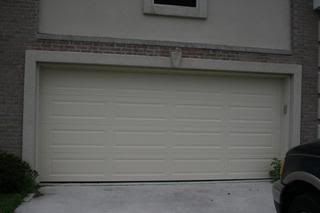 Debbie mentioned the Knifty Knitter on her blog when she met up with Lisa from Maine. Well, I went to Michaels and they had the whole set for half off! Here are my first creations---two hats! I had to bribe Isaac with gum to pose for me. I guess you get what you pay for.LOL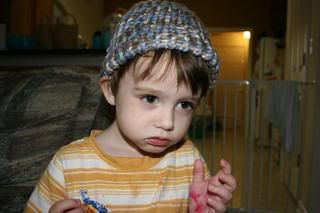 This photo of Evie is probably the best photo I've gotten of her in a long while! It'll definitely be on the calendar this year! She's so beautiful.
Well, I've been frantically running around all day today. Jon is leaving for a middle school youth gathering in Orlando with our church at 4:15 today. Yikes! I've got the last load of his clothes in the dryer right now. I went to the store to buy appropriate traveling food. I baked granola bars. I've packed his lunch and snacks for the whole weekend. I've gathered up all the odds and ends he needs and just need to shove it all in his bag once all the clothes are dry. How's that for waiting until the last minute?lol I think my brain went on strike and just didn't compute that I'd actually have to DO stuff to get him out the door today.lol Luckily, I figured it out this morning and have most of it done now. I hope this trip is a blessing for Jon and that he makes like minded friends from our church.
Blessings,