What a nice week! I took the week off all computer stuff last week in order to get some much needed work done around the house. Now my house is ready for Thanksgiving and my cabinets are overflowing with good things to eat.LOL
In kid news, Allison is finally ready to begin driving again. She'll start over this weekend.
Jon has been sick but is getting better and has begun the winter garden. I'm hoping we have better luck with this one. We didn't get much from the summer garden. It was too hot and we were in a drought.
Evie is currently sick with whatever Jon had. She's a tough cookie though and driving us batty anyway.LOL
Isaac is STILL TWO and the tantrums are getting old.lol He's still not fully potty trained and it's getting cold. I don't know WHAT I'm going to do. It's hard to have him walking around pant-less in the cold weather. We may have to suspend training for the winter. Maybe he'll be more mature or maybe he'll get tired of being wet and figure this all out soon.
Sophia is already standing! I worked on baby proofing all week and got most things picked up. It's hard with two littles around though. They are good at dividing and conquering.lol Sophia also finally got and kept a new tooth. She had her tooth break through a few weeks ago but it healed up and sat there until two days ago. Looks like she'll be biting me in no time.lol
Here are two cute photos of Sophia...
Peace, yo.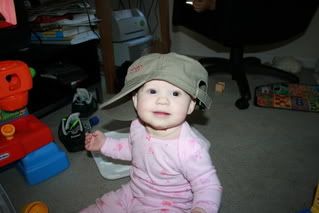 Future video game junky...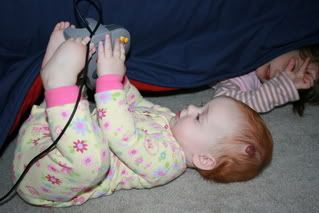 Blessings,