Here are some photos from the last few days...
Jon knitted some socks for the coming winter...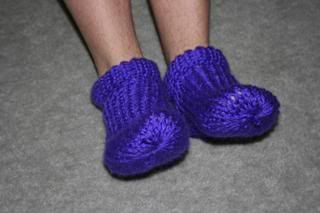 He is so creative! I'm proud of him!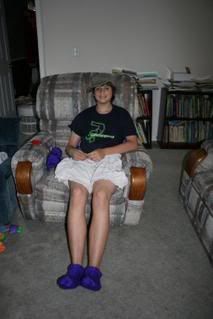 Here is Allison and Isaac feeding Sophia. I LOVE the look of pure joy on Isaac's face! I know this photo is blurry but I still love it.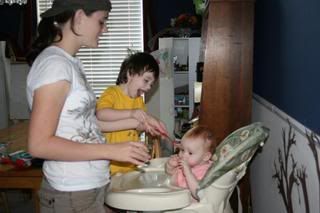 Here's the little stinker right now...right after a bath. After a whole day of temper tantrums, it's nice to have a nice photo to gaze upon.LOL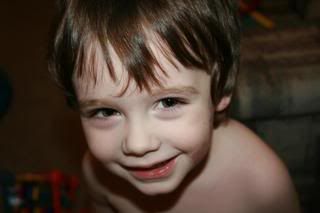 Here is the mess that the littles can make in 5 minutes time. I still can't believe it and I'm the one who will have to clean it up! They're cute though...lol
A puzzle, a ball for each hand and life is good!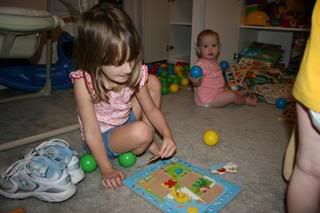 I have some bad news for you all.
I'm a Ramen Noodle Flunky. On Tuesday, I made Ramen for Evie and Isaac since they are sick. Isaac wouldn't touch it with a ten foot pole, but Evie ate her bowl and asked for Isaac's too. I thought, "Wow! How great that she's hungry!" While I was washing the bowls, I realized that I forgot to put the bouillon cubes in it. Yep, you guessed it. Evie ate two bowls of noodles and water.lol
Not to be deterred, I tried again on Wednesday. This time, I made sure to put the cubes in FIRST so I wouldn't forget. A half-hour later I hear this sizzling sound and go to check it out. Yep, totally forgot about the Ramen and all the water boiled out leaving this wonderfully hard crust to scrub off. At this point, I decided to hand the job to Jon. HE had no trouble.LOL
Blessings,