We had some GREAT weather today! It's been raining and raining for the past week and the kids were getting restless. Finally, the clouds parted and the sun shone down upon us. What a blessing! After Sophia's morning nap, I collected the children and we escaped to the park. It was a really nice day and the kids had a nice time. Poor Isaac didn't want to leave even after 2 hours! Everyone else was feeling the heat by then and he was out-voted.LOL I love this park because it has lots of shade for me and the baby. She really enjoyed watching all the excitement and I can tell that it won't be long before she's off and running too. Here are some photos of the excursion...
Here we are when we first got to the park...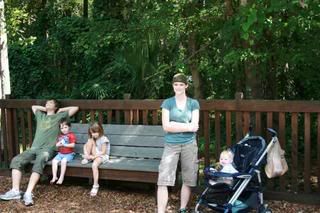 Even Sophia was excited to be here...
Shhh! Allison's playing hide and go seek...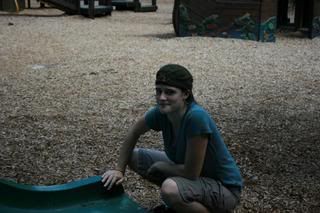 Jon's flying high...
With Evie and Isaac at the controls...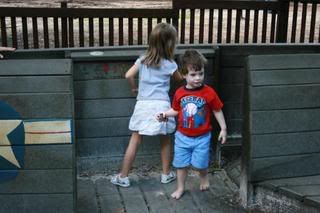 I have no idea how he ended up on the wing...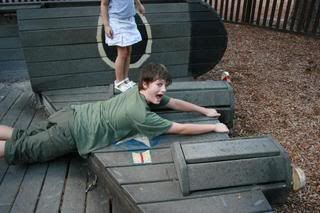 Evie and Isaac thinking about sliding...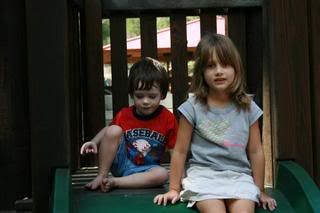 Stinky baby? Why yes, she is!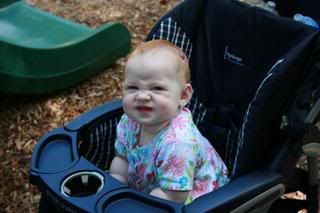 This is a photo of the giant play structure. It was all built with volunteer's and donated money...
Well, that's it. We're hot, tired, and one of us is napping.LOL On our way home from the park, we passed by Grandma G's house and found her about to mow. Jon offered to mow for her and whipped that out while we visited. Afterwards, he offered to stick around and help with any odd jobs. He's such a great guy! I'm sure that he's working hard and I'm blessed that he's my son.
Blessings,
Lisa