Ha! Like that can even happen. In my last real post A WHOLE YEAR AGO, I wasn't even expecting a baby! Now look...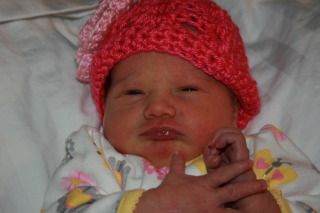 Yep! A new baby arrived on June 7th. Charlotte Rose.
So, how do I begin this blog over again? Do I skip over all that happened or do I add it in as I go? Not sure. :)
Many things have happened since I last posted. Allison moved out and is now moving back in once she returns from Puerto Rico with her new boyfriend.
Jon graduated highschool and is now in college this semester with the hopes of joining the Air National Guard in January, going through boot camp and then finishing up college, hopefully debt free from the guard, then wants to join the Air Force and go through Officer Training. He has really worked hard this year to tone up and get physically fit for the job. He also received his Eagle just this past weekend. What a feat that was! I don't think any of us have ever worked that hard before.lol
Genevieve has taken her place as leader of the pack. She's a good organizer and helps me tremendously. She turns 10 on Oct. 1st and is hoping for a Beta Fish.
Isaac is always the first to obey and the quickest at his jobs. I'm always amazed at how fast and efficiently he works.
Sophia is our ray of sunshine. If fairies were real, I'd believe that she was one. She flits around on her toes, dancing and twirling wherever she goes. (but watch that temper of hers, it'll catch you off guard if you cross her.lol)
David is tornado of trouble. We've been gating off areas of the house just to keep him contained. He's working on potty training and is finally "getting it." Hopefully soon, we'll only have one in diapers again.lol
I accidently named Charlotte wrong. Who knew that I'd give birth to Mary Poppins? Oh well, she'll just have to make this name work.lol She's the most delightful baby I've ever had. Happy, content, smiley, alert, and sleeps through the night-most nights anyway. :) Love that baby.
So, that's a quick update of our happenings. Hopefully soon, I'll update our school happenings and life in general. :) (maybe some recipes too.lol)
Blessings,