It's been a crazy summer! I can't believe that in a few short weeks, we'll be starting our new school year. I have a lot planned out so far. Everyone has a routine in place and the only wild hair is Sophia.LOL She's not quite ready for activities, but I'm finding some things that will keep her busy for small blocks of time. I think that God is working on flexibility with me this year. Also dependence on Him. I'm not going into this year with a set schedule, because that just won't work with all the different directions we'll have to run, but at least we'll have routines.LOL
Allison's job doesn't end until winter and only for a few months, so we'll need to make allowances for her schedule. Jon also has a job, but his is something that will be easier to work around us, instead of us working around it. We also have four activities to work around during the school year. PE, gymnastics, Bible study, and Jon's scouts. That will keep us busy four days a week with Friday off. I'm liking my Friday off.LOL Allison will be testing for her driver's license at the end of August and if she passes, it'll be a real blessing to share the driving with her. Prayers that she's ready by then would be great!
Here are a few photos of the past two weeks...
Allison with her lifeguard tan and her best buddy, Isaac...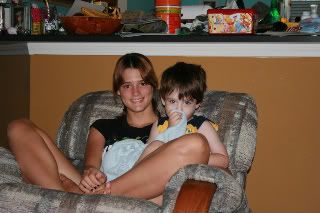 Sophia giving Isaac some love... or the Heimlech...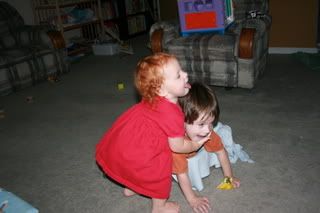 This is the trouble with girls, they're always wearing my stuff...until they outgrow it...lol
Jon impressed us with his diet soda and Mento's experiment...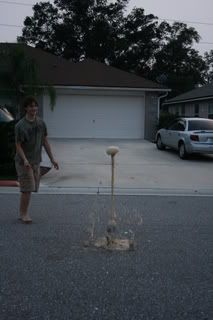 Sophia was especially impressed...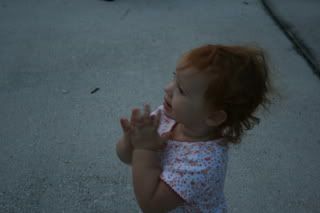 My chunky monkey with the bright red hair...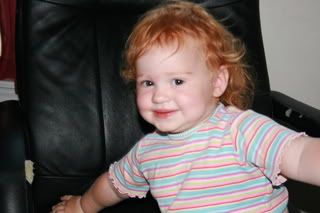 A good photo of my little guy, doesn't happen often...lol
Well, that's it. Just keeping busy with the kids, trying to get everything hammered out before August 18. We'll be following the traditional school calendar this year since the older kids would like to be off when their friends are. We'll see how that works out. If they get behind, they'll be wishing they worked harder this summer.LOL
Blessings,