We've been getting back into our Preschool Rotations to keep the littles in a routine and to work out the kinks before the older kids begin their new school year. This year, I added in a new rotation I'm calling, "Exploration Boxes!" I've made 10 boxes that have different activities that can be pulled out and used without my help. I'm leaning on a Montessori style for these.LOL
These are the boxes I came up with:
The treasure box (it's full of polished stones and "gems", a magnifying glass, a pair of tweezers, and a tray to collect their "treasures")
The clothes line box (old fashioned clothes pins, a clothes line, and play clothes to hang up)
The clip box (full of chip clips, regular clothes pins, tongs, and little fuzzy balls to pick up)
Hammer and nails box (golf tees, styrofoam disks, styrofoam plates, and a toy hammer to "pound nails")
Look how happy that little guy is...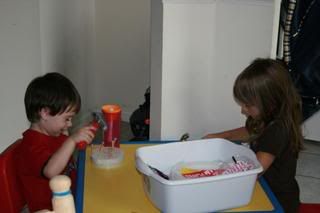 Pipe cleaners and fuzzy balls box (title says it all.lol)
Bead box (has beads and string for making necklaces)
Cowboys and Indians box (has little plastic pieces and Kapla blocks to play with)
Foam sheets, stickers, and sequins box (has glue and scissors to make things with)
A playdough box
A science box (has magnets, metal, seeds, and do-dads.)
We've also added in a Lapbook Rotation! Here's Evie's finished Dinosaur Lapbook...
Page 1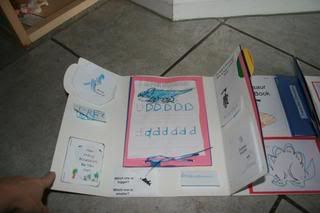 Page 2
Page 3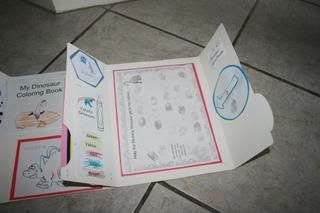 Evie had a BLAST and is looking forward to doing another one soon. I'm looking at http://www.homeschoolshare.com/ for free lapbooks and I've also joined Enchanted Learning so that I can make my own. We are really starting to have some fun around here.LOL
Here are some more photos from our day...
Evie painting...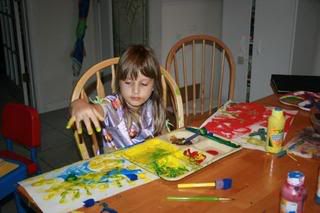 We made a super big mess...
Isaac and his favorite toys in the whole world...
More hammering...
Well, that's it for now. Sophia's in my lap and pushing buttons.lol
Blessings,