I've been working all summer on getting the littles in shape for the new year. We've had A LOT of bumps and today was no exception. Chaos reigned, but Debbie, from SHS and all my SHS friends talked me down from my ledge and I've got some more ideas on how to get these kids on a good solid schedule. Now if I could just get the rest of my life in order.LOL
Trouble? I don't see any problems...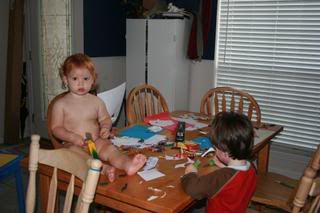 I'll clean it up later, yeah, later... that's it...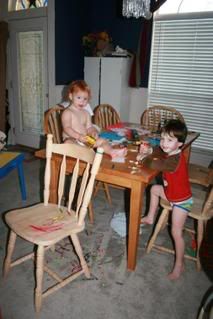 What stinkers! Notice how nice the carpet looks though? I carpet cleaned it yesterday. It looked pretty bad and really, o.k. desperately needed cleaning. Whoever thought of putting carpet in a dining room, should be reprimanded.LOL
Blessings,