Jon's birthday was last Friday. I can't believe that he's now 15 years old. Boy, do I feel old.LOL
Our big gift to him was a sleeping bag that weighs under 2 pounds. I know, but that's what he wanted.lol It also shrinks into a 7" x 17" square. Pretty impressive.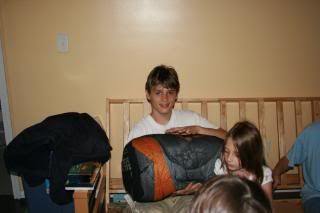 My parent's got him lunch with an astronaut at the Kennedy Space Center. He was pleased.lol They left the next day and had a great time.
Happy Birthday, Jonathan! We love you!
Blessings,