Strawberries are good...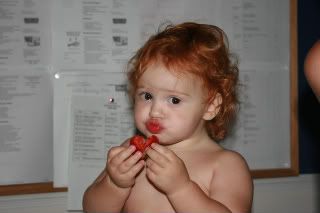 Around the popcorn bowl...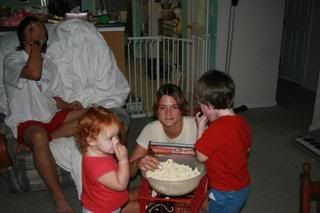 Drawing fun...
We're doing good. Just been crazy busy! Allison goes for her driving test on Monday. (We're all pulling for her.LOL) Other than that, it's been the same old thing. Run, run, run and hope the baby doesn't melt down somewhere.lol Evie's doing great in her school work. Loves her P.E. program and of course gymnastics. It's hard to keep her busy enough, really. She's the kind of person that needs to be going all the time and I'm not.lol I am trying though.
Tomorrow is Evie's 6th birthday party. I can't believe she's THAT OLD!!! She's really a great girl though. Very independant, helpful, and not shy one bit. Her P.E. coach loves her and we do too.
Happy Birthday Genevieve! I hope your party is everything you are dreaming of right now.
Blessings,