A blurry, chocolate covered toddler...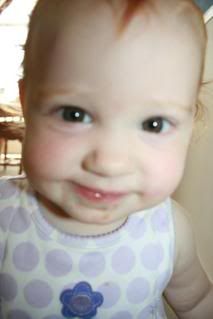 I got this recipe in my inbox a few days ago from MarmeeDear and decided that it'd be a fun project for the kids and I to do.
----------------------------
Glazed Doughnuts
Into the BOSCH mixer bowl add:
2 cups warm water (115 degrees)
2 eggs (I warm my eggs before cracking into the water in a bowl of very warm water - just let them sit a few minutes in the warm water and it takes the chill off them - you want everything in your bowl nice and warm to help your yeast rise.)
1/3 cup sugar
1/3 cup vegetable shortening
2 heaping Tbsp. yeast (I use SAF yeast)
1 Tbsp. salt (we use sea salt)
3 cups unbleached all purpose flour (I like King Arthur)
Mix on medium speed until combined. Now add in up to almost 3 cups more flour until you have a soft workable dough. (Don't keep adding more and more flour as too much flour will make heavy and tough doughnuts! - just enough (right at about 6 cups total for the whole recipe-- to make it soft and just slightly sticky) Let the mixer knead the dough on speed # 2 for 3-4 minutes. Take dough out and put on a lightly floured surface. Roll out with a pastry roller and cut out with a doughnut cutter. Carefully place cut out doughnuts and holes on a lightly floured cotton cloth or tray. If you have little helpers it might be easier just to make all HOLES! Who doesn't love to pop a donut hole in their mouth? Betcha can't eat just one!
Let rise for 45 minutes in a warm spot. Use a large pot with cooking oil about 3" deep. Turn oil on medium / high and let it heat up. (Never leave hot oil unattended!) Drop in a doughnut hole after about 3 minutes. If the doughnut hole floats and browns quickly - your oil is ready to fry up your doughnuts. Add them a few at a time by dropping carefully into the hot oil. Turn once carefully as they brown. Do not overbrown. Drain each lightly browned doughnut on paper towels. While someone is frying the doughnuts have another helper stir up the doughnut glaze.
DONUT GLAZE:
Place1 bag of powdered icing sugar into a medium/large bowl. Add in milk, 1 Tbsp. at a time, until the sugar is smooth and the consistency of thin gravy. Sink each doughnut into the glaze mix after it is drained while still hot. Shake off excess glaze and place glazed doughnuts on a large tray. Serve while hot. Cover leftovers and reheat in the microwave just momentarily. But these are best served fresh and hot. Makes a big batch of doughnuts for lots of growly tummies! If you don't have a lot of them around why not take a tray of warm doughnuts to a friend or neighbor
------------------------------
Yum!
Needless to say, everyone enjoyed them!
Jon did all the cooking...
Afterwards, Sophia played Lounge Lizard...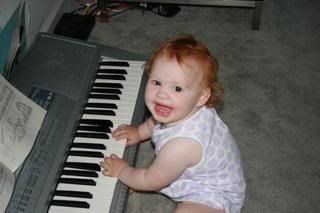 Poor Isaac missed all the fun. He's come down with a high fever and has been sleeping most of the day. I'm praying that he's the only one to come down with this. We've all had enough illness to last us a year!
Blessings,