Seventeen years ago I was on bedrest with Jon. lol Yikes! I can't believe it was that long ago. Well, I had an amazing group of ladies who came to help with Allison while I was unable to do so. One of these ladies became a really good friend to me. She brought me really good books to read and would often sit and knit things while chatting with me. I was grateful for the company. (Thanks Carol!) Well, I asked her to teach me how to knit and throughout my pregnancy, she helped me knit my very first thing! A purple sweater for Allison. I still have it. :) That was the only thing I actually knit...until now!lol See, I had another wonderful lady teach me to crochet and I've been doing that for a while now but knitting seemed so hard. I am on a board that happen to mention Raverly and went on there for ideas to crochet and accidently ended up on the knit side.lol Well, I found these...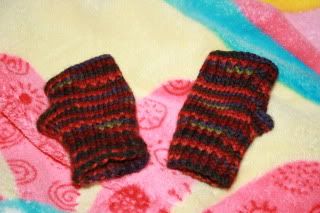 And just HAD to make them! I mean really how hard could they be? They are teeny tiny!lolol Well, I bought the yarn, the special double tipped needles in a four pack, and a how-to book. Then I took each step and watched youtube videos over and over until I could figure it out. I frogged the work so many times that I couldn't even guess how many times and finally ended up with the above little Sucky-thumb mitts. And I have to say that I have fallen in LOVE with knitting.lol For my next project, the cutiest little aviators cap for the baby.
http://www.ravelry.com/patterns/library/aviatrix-baby-hat
Thanks Carol!
Blessings,