There's a local Flea Market that has become mostly a farmer's market. My mom goes every Wed and some Saturdays. It has become a big way to save money on produce for my family! On weeks when everyone is healthy, I go with Mom. It's our standing date. On weeks like this one, I send one of my older kids and they go out to lunch afterwards.
Today Jon went and returned with this...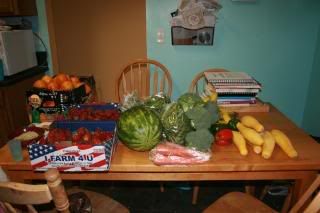 1 box of Navel oranges (84) $10.00
1 flat of strawberries $15.00
1 watermelon $4.00
4 broccoli
1 bag of carrots $1.00
3 gallon bags of greenbeans
8 yellow squash
5 greenpeppers
1 red pepper
4 bunches bananas
Total $44.00
The oranges last us two weeks and everything else is for a week. The strawberries we'll freeze if they start to get soft before we finish them.
Blessings,