I think that is a better title for our week in review.LOL! I'm trying folks, it's just been crazy here.
Let's see. First off, we DID go blueberry picking. It wasn't too hot and we had a GREAT time! We were able to pick almost 8 pounds to take home and about that much was eaten there.LOL At 2.00 a lb, I'm glad we went. It was cheap entertainment and I have some stored in the freezer for our smoothies. We're going to go again next weekend just because it was fun and you can never have too many berries. Also, Jon missed out since he was camping with his boy scout troop. They went to Fort Clinch and by the looks of Jon, had a great time. He was camp cook this weekend and the leaders were impressed with Jon's level head and his ability to think outside the box when things don't go as planned. He was to make spaghetti for dinner but his noodles got ruined by a bad watermelon and he just said, No problem, I'll just make this instead. Good job Jon!
After berry picking, we decided to add to our small collection of blueberry bushes and then put them all together in a more shady spot. My poor dear husband dug well into the night, just for me. Here's his work...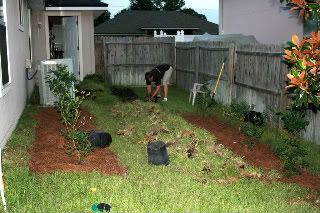 They already have berries on them for some summer fun...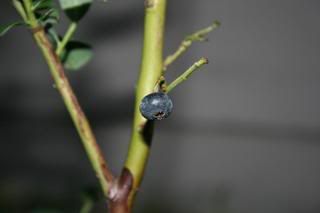 My friend down the street had her baby last Wednesday and I wanted to surprise her with something different. I found a site for making those diaper cakes and set to work. I hid matching pink dresses for her new baby and big two year old sister in the bottom and middle layer of the cake and some baby soap and diaper rash cream in there too. I topped it off with a few teethers and a rattle. Here's my finished job...
I think it turned out nice. It wasn't too hard either.
Our days have been spent mostly outside. I'm working in my garden and the kids have been taking advantage of our swimming pool. We've found that nighttime is the best time for a swim. No need for sunscreen and it's not too hot. Here's some cute photos...
I know I shouldn't post this one but it's soo cute and I think I have only 4 regular readers so if you're offended, please forgive.LOL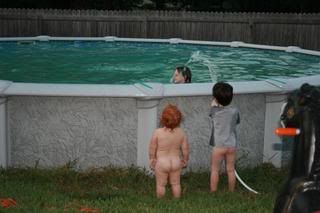 Splashing around...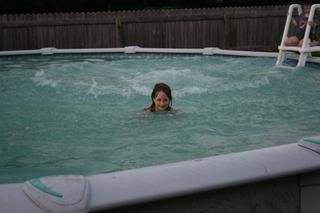 Happy times...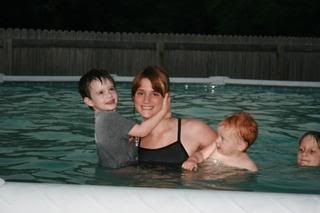 I think I'll write more on the next entry. This is getting long and I have some more fun photos...
Blessings,