I know, I know, you all NEED your Sophia fix and I've been terrible in meeting your needs.LOL Well, I have the best photo for you! I'm so tired that that's about all I have. Photos.LOL
Enjoy...
Pirate Sophie...
What? You think my curly, bright red hair is amazing? What can I say? God made this color just for me...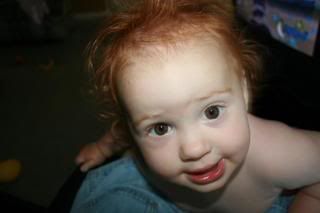 Here's my super cool Official Lifeguarding Big Sister after her first day of work...
Here's my super cool, big sister Evie playing dollies with me...
No, I'm the baby. I'm the baby. I'm the baby!(good thing this cradle is made from heavy duty plywood.lol)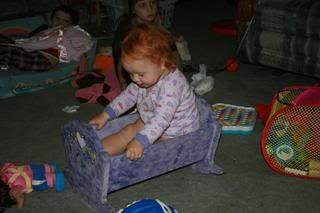 It's been a crazy week. 6 dentist appts at two different locations, one Dr. appt for camp, and Isaac's surgery was supposed to be Thursday but the laser broke and so he went without food all day for nothing. Oh, and we had the dishwasher repairman out all day on Friday. It was a great weekend though! We went to a Concert on the Green hosted by the community college next door to us on Sunday and it was a lot of fun. The kids loved the music and they also loved the jugglers. They had a butterfly release and good food too. Everyone enjoyed themselves and after we got home, we were treated to fabulous fireworks right outside our front door. Now that's entertainment!
Blessings,