I felt it was time to get some good photos of David. You know, the kind of photo that would grace the walls of the grandparents houses. :)
This is one of Davids favorite expressions...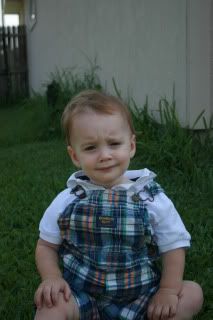 (Why did you just hit me with your camera?)
Or how about this one...
(What is that smell?!)
These next two are my very favorites though...
(Mr. Cute)
(Mr. Adorable)
I can't believe how big he is already! He's walking really good now. His favorite thing to say is, "Mommy? Mommy? Blah, blah, blah, blah, blah, blah, blah." It's hilarious. We were at Genevieve's dance recital and David would wait until it was dark and really quiet and then shout out, "Mommy?...Mommy?" (like he was lost and frightened) and then he would say, "Blah, blah, blah, blah." Everyone in the whole back row would start cracking up. Lots of fun with this little guy. :)
Blessings,