One of my favorite things to do after a very long week is to look through all the photos that various people took. I always find it interesting to see what everyone finds important to them. I'm also thankful that the older kids feel comfortable borrowing my camera and I'm planning on buying a smaller camera for the younger ones to use. That way, we'll see what they think is important a little more often.
This first photo is by Jon. Before he and my Dh went to Ohio for Grandma's memorial, Jon wanted to make sure that I'd have food to eat. He made me 42 egg rolls! I know that there are only 37 in this photo...I was hungry.lol He really is a master chef!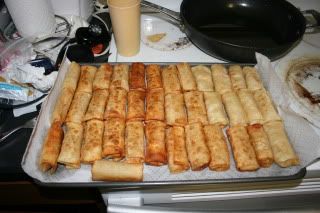 This next photo is of the extremely noisy frog/toad that Allison raised from a tadpole last year and it not only survived, it has been a pain in the neck ever since.lol
Here is Isaac, not only smiling but showing off his latest creation...a shark. I think he did a great job! The kids love homemade playdough.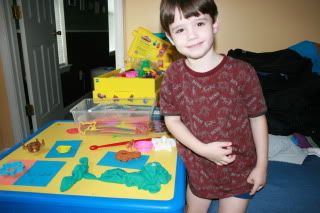 Here is my Sophia. Her hair is getting so long!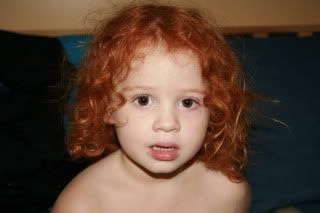 Just look at those curls and that color!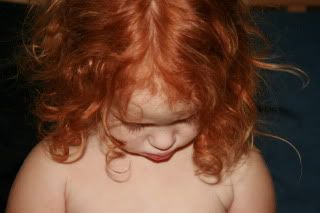 Here is Sophia's masterpiece. Would you believe that she did this with watercolors? She really knows how to use the space on paper and her colors are amazing. Every picture she draws or paints or colors is completely used when she's finished.lol
Well, that's all the photos I have for now. Genevieve is getting excited about her 7th birthday coming up. Allison's school is great. It's a great fit for her. Jon is excelling this year. He's an amazing student and I'm thankful for his servant's heart. Isaac and Sophia are staying out of big trouble and keeping busy with all our activities. I'm 11 weeks along now with our newest little one and everything is going well. My only complaint is exhaustion but I really can't complain. It was a lot worse with my last one. So, there's my update. Sorry I'm not keeping up with this blog much. It's hard to manage everyone and everything and still have energy at the end of the day.lol Maybe once I get my sea-legs things will get easier. We'll see.lol
Blessings,