Everyone's been taking advantage of our pool this year. The weather's been so hot that it's the only time anyone's willing to venture out of doors.
Jon says hi!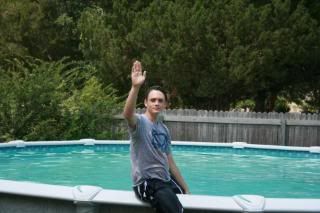 I'm posting this photo because, if you look very closely, you can see a hint of a smile. That's a rare photo.lol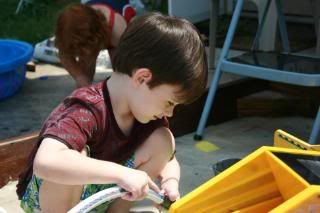 Now this little critter is probably going to be an olympic swimmer! She can be seen in the pool every chance she gets. And always has a look of pure joy on her face.
She even has her own pair of goggles, that she sleeps with.lol
Good thing Daddy keeps her safe! She doesn't know that she can't breathe under water yet.lol
Pure Joy!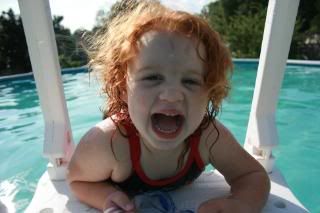 In other news, my MIL bought this fan for my DH's birthday and my Dad, Brother, and Husband installed it this past weekend. It's so pretty and really makes the room look finished. What a blessing to have that project done!
My garden is still hanging in there, although I'm seeing that the heat, hail, and big storms are taking it's toll on the poor plants. I'm guessing I'll be replanting within the next month or so for our second season. In good news, I've been able to pickle 11 jars of dill pickles this year! Now that's a good cucumber season! I've also had enough greenbeans and lettuce to keep us fed for the past two or three months. The biggest crop has been tomatoes by far. I've given so many away and still we're hard pressed to eat the ones we keep before they go bad. Yesterday, for dinner, I served two tomatoes sliced as a side dish. Now that's desperation.lol
On the school front, I've been working with Jon on SAT prep work and we've been finishing up a few high school subjects that they started late in the last school year. Things are going good and I can't wait to be done until the new school year. I could use a break before August.LOL
Blessings,