Eight years ago, we were on our way to Universal and needed a really compact yet full sized stroller. I happened to find this one at a Babies R Us...
Peg Perego Pliko P3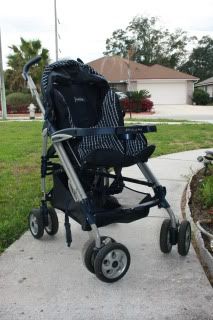 It had everything I wanted in a stroller. It folds like an umbrella, into a small rectangle. It has a wonderful sunshade that would completely cover a child in a sudden downpour. It gives a wonderful ride for the child, no matter what size they are. It has a step that older kids can stand on if they get tired and I've put two kids in it without trouble many times when an older child has given out during an outing.
A few years ago, we were given a Ford Expedition by my MIL. It has no trunk space at all, but this wonderful stroller will fit in the crack behind the seats that is called a "trunk."
To say that this stroller has been a lifesaver, is an understatement. After eight years of faithful service, it is now going into retirement. It STILL works, mind you, but many things are starting to give out and we think that it's ready for a life of mild service instead of what we do to things around here.lol The foot broke off of one of the brakes, the seat belt no longer functions and the poor dear sunshade has many holes from lots of use. But it STILL works.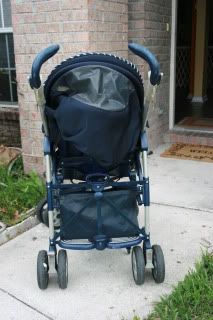 So, when looking for something "new" and "fun", what do you suppose we decided upon?
No contest. P3 is our favorite and we'll stick with it till the end. Amazon has this beauty on sale for $220 and I think it's worth every penny.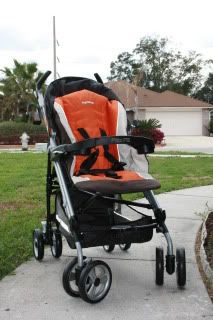 Here it is folded up...
And if I couldn't have possibly loved my older one anymore, this one has many features that I wished our first one had. The shade can be unzipped in the back so you can shade them in front but they aren't stuck without a breeze. It has two cup holders for the little one. The harness is stationary, unlike the first one which would get all tangled up and my littles could get out of and it's orange which is one of my favorite colors. lol
So, if you are ever in need of a new stroller...this one is my hands down favorite and no, I didn't get paid to say it either.lol
Blessings,