(I saw this on De'Etta's blog and thought I'd add to it.lol)
When:
You calculate what the toilet paper to toilet ratio is before you buy a brand. (Charmin=bad, Scott=good)
You buy 6 whole chickens and it lasts you a month.
You buy the $1 towels from Walmart because they dry-even when left crumpled on the floor-in record time. (Who cares that you can see through them. You can fit 72 of them in the washer at one time and they dry on the line in 10 minutes.)
You also buy the bulk wash clothes x 2 and never have enough.
You wait for a clearance and then buy them out.
One loaf of bread= one lunch
One Gallon of milk= 2 breakfasts (and only because you have to use 3 different kinds due to allergies)
When one room can be completely destroyed in 10 minutes and it takes 2 days to clean.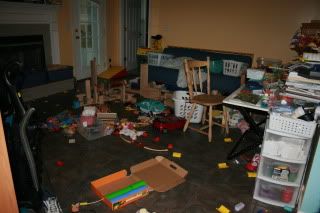 When you shower, you no longer expect privacy. In fact, you use that time (wisely, I might add) to bathe half the family. One in the shower with you, two in the tub next to the shower.
When there really is a "Hair Wash Day."
When it takes you an hour to tuck everyone in...on a good day.
When your home looks more kid friendly than the local Chuck E Cheese.
When your calendar looks busier than the presidents.
When you're mentally calculating whether or not your 8 passenger vehicle will really hold 8 passengers. (four carseats, four adults. hmmm.)
When you buy toothbrushes in bulk, assign everyone a color and have no less than 463 of them all over your house, just to make sure you can find one when you need it.
When your old big pot is now for side dishes and your first crockpot is only good for soaking beans.
When you are seriously wondering where the next baby will go.
and finally,
When you no longer get upset over paint, marker, or crayons on your walls, stains on clothes, or broken anything (other than kids), because you love them more than anything and only *they* can't be replaced.
Blessings,